Pineapollo, one of the three protagonists of Fruity Robo, Is a witty and clever pineapple and the youngest of the three. This flirty playboy is known to be weak for money, and is currently over 10,000$ in debt to his girlfriend, Flora Peach.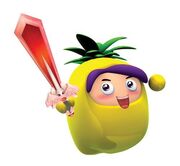 Pineapollo Benero

Appearance

Skin : Yellow

Hair : Dark purple

Eye color : black

Affilation

Good

Allies

Applo Apple,Berry Strawberry,Grapesy grapes, Master banana, Master Melon, Master Grapes , Beno , Mandarine Orange, Benjo...

Enemys

Benjo...(formerly)...